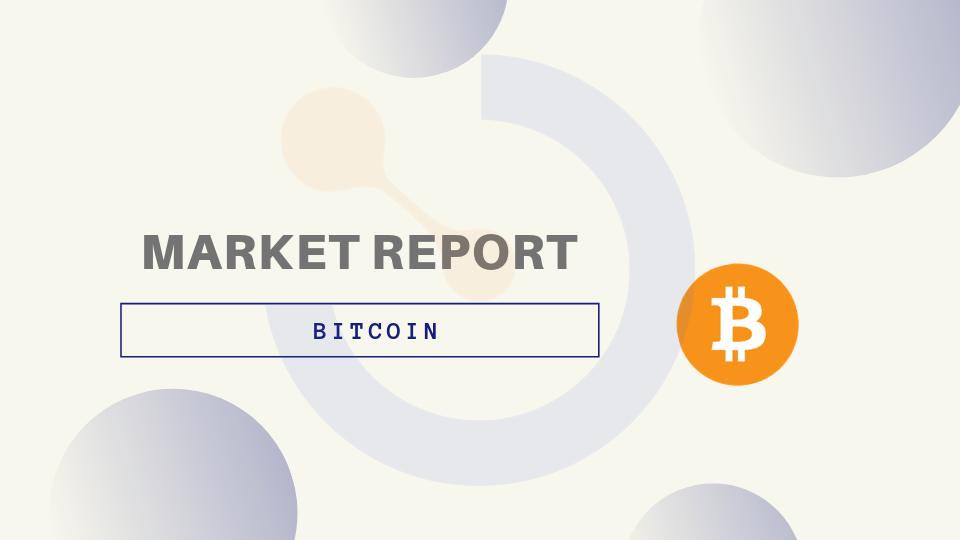 Giving over 18% returns to its investors in the last week, Bitcoin has attained its new 2019-high crossing $11,000 levels on Monday, June 24.
Summary
Overall Bitcoin Performance in the Last Week
Top Recent Bitcoin News
Bitcoin Market Performance Using Omenics' Sentscore
1. Overall Bitcoin Performance in the Last Week
Last week has been phenomenal for Bitcoin and its investors as the world's largest cryptocurrency made massive gains. Bitcoin gave over 18% returns to its investors moving from $9200 levels to all the way above $11,000: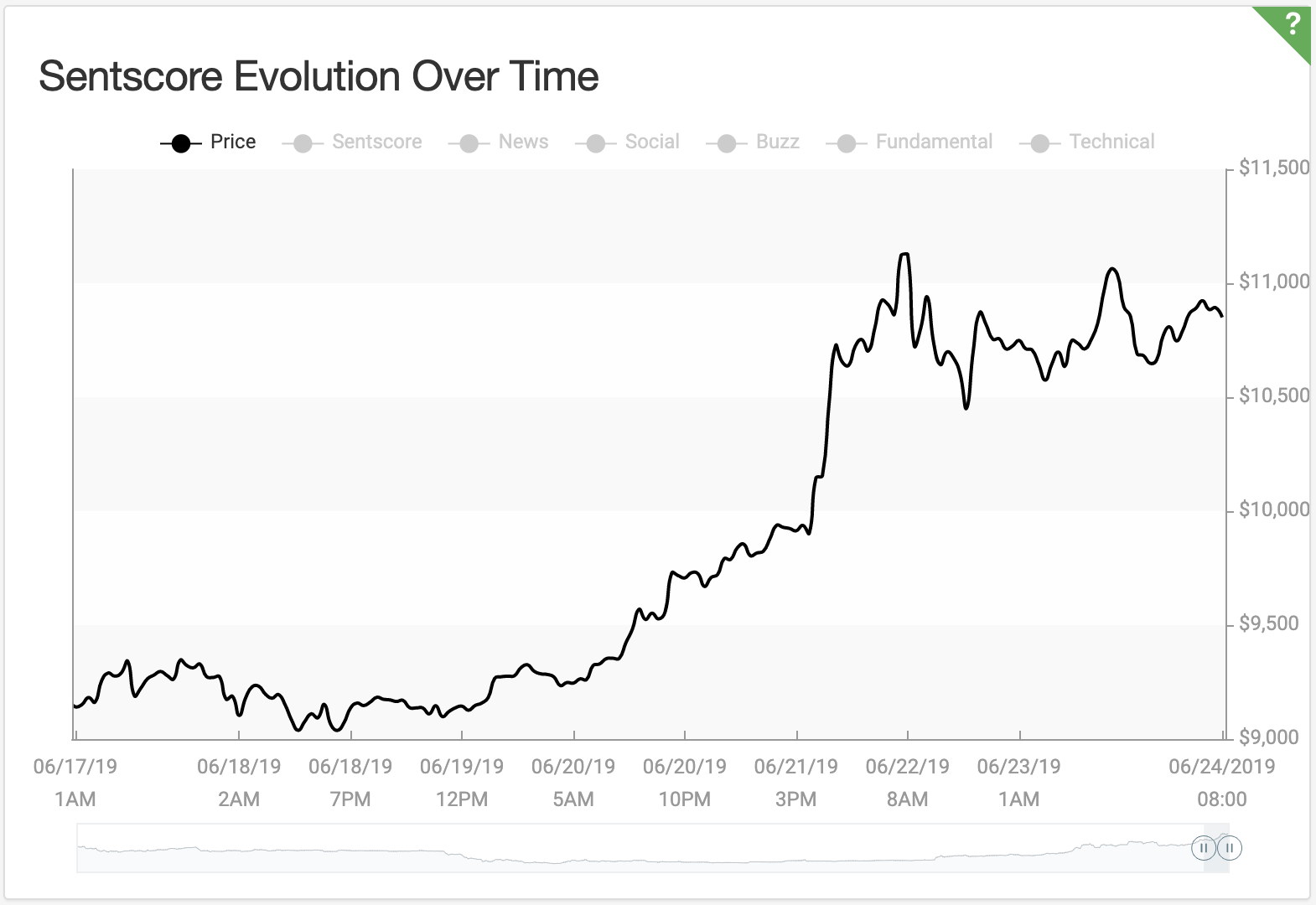 At press time, Bitcoin is trading at $10,911 levels with a market cap of $194 billion. After the last week's gains, Bitcoin extends its dominance to now covering nearly 60% of the overall market cap.
Moreover, with today's price rally, Bitcoin is close to giving nearly 200% returns since the beginning of 2019. There are a lot of factors behind Bitcoin's latest performance and crypto industry experts are already vouching for the cryptocurrency to cross its previous all-time high of $20000 by the end of this year.
2. Top Recent Bitcoin News
Commentators and analysts from the crypto industry are asserting that one of the major contributing factors fuelling last week's Bitcoin price rally is the launch of Facebook's native cryptocurrency

Libra

. They think that Facebook's Libra launch has created higher confidence and awareness for digital currencies with Bitcoin benefitting the most out of it.



Speaking to

Bloomberg

, Edward Moya, chief market strategist at Oanda Corp. in New York, said that the announcement of Libra "is validating the crypto space and sending all the major digital coins higher. Bitcoin volatility is likely to persist, with $12,000 and $15,000 as the next two critical resistance levels."





On the other hand eToro's senior market analyst Mati Greenspan believes that Bitcoin has matured a lot more as an asset class since the last time its price crossed $10,000. He notes that the current Bitcoin bull run is highly justifying looking to the growing level of adoption.





Google trends

data

suggests that retail FOMO has still not kicked-in. The search for "Bitcoin" is just 10% to what it was in December 2017. On the other hand institutional demand for Bitcoin is on the rise. The CME Group recently tweeted that the demand for Bitcoin Futures contracts has reached its new all-time high.

CME Bitcoin futures (BTC) shows growing signs of institutional interest. BTC open interest rose by a record 643 contracts in a single day, establishing a new all-time high of 5,311 contracts on June 17 (26,555 equivalent bitcoin; ~$250M notional). https://t.co/I6A3jD6Iq3 pic.twitter.com/ljz6EbvK79

— CMEGroup (@CMEGroup) June 18, 2019
In other interesting

stats

, Bitcoin's monetary system is currently the eighth largest in the world, if we exclude gold and silver. Bitcoin has recently moved above Russia's monetary base which is the total amount of money held in commercial deposits in the central banks or the money in circulation.





With the recent Bitcoin price rally, the debate of crypto vs banks have again caught the heat. Crypto industry enthusiasts have been talking about the benefits of Bitcoin over banks and why its the time to bid farewell to the traditional banking systems.
They warn that bitcoin is used by criminals, but it's actually our best tool against them.

Bank fines, last 20 years:

Bank of America: $58B
JPMorgan: $29B
Citigroup: $17B
Wells Fargo: $14B
Deutsche Bank: $12B
Goldman Sachs: $9B

Buy bitcoin, bye banks. 🔥

— Rhythm (@Rhythmtrader) June 23, 2019
The reason why bitcoin isn't already worth $1,000,000, is lack of education.

Everyone wants bitcoin, they just don't know it yet.

— Rhythm (@Rhythmtrader) June 23, 2019
People around the world are leaving the unstable, unpredictable markets of traditional assets and storing more and more of their wealth in Bitcoin.

Long Bitcoin, Short the Bankers!

— Pomp 🌪 (@APompliano) June 23, 2019
Some experts point to the growing uncertainties in the global economy which has shifted the investor interest to Bitcoin and Gold.



With $gold & $BTC rallies, perhaps look at $USD's problems like yield curve, interest rate, trade wars, tariffs, etc. Plus, Chinese bank failures, negative yielding Euro debt & emerging markets getting whacked.#Bitcoin perfectly designed for this environment. 👍 @TuurDemeester pic.twitter.com/sAhECZ3Hl7

— Trace Mayer (@TraceMayer) June 23, 2019
3. Bitcoin Market Report Using Omenics' Sentscore
The Omenics Sentscore chart for Bitcoin shows that the overall market sentiment has been very bullish. The Sentscore chart oscillates in the "very positive" region above 7.5: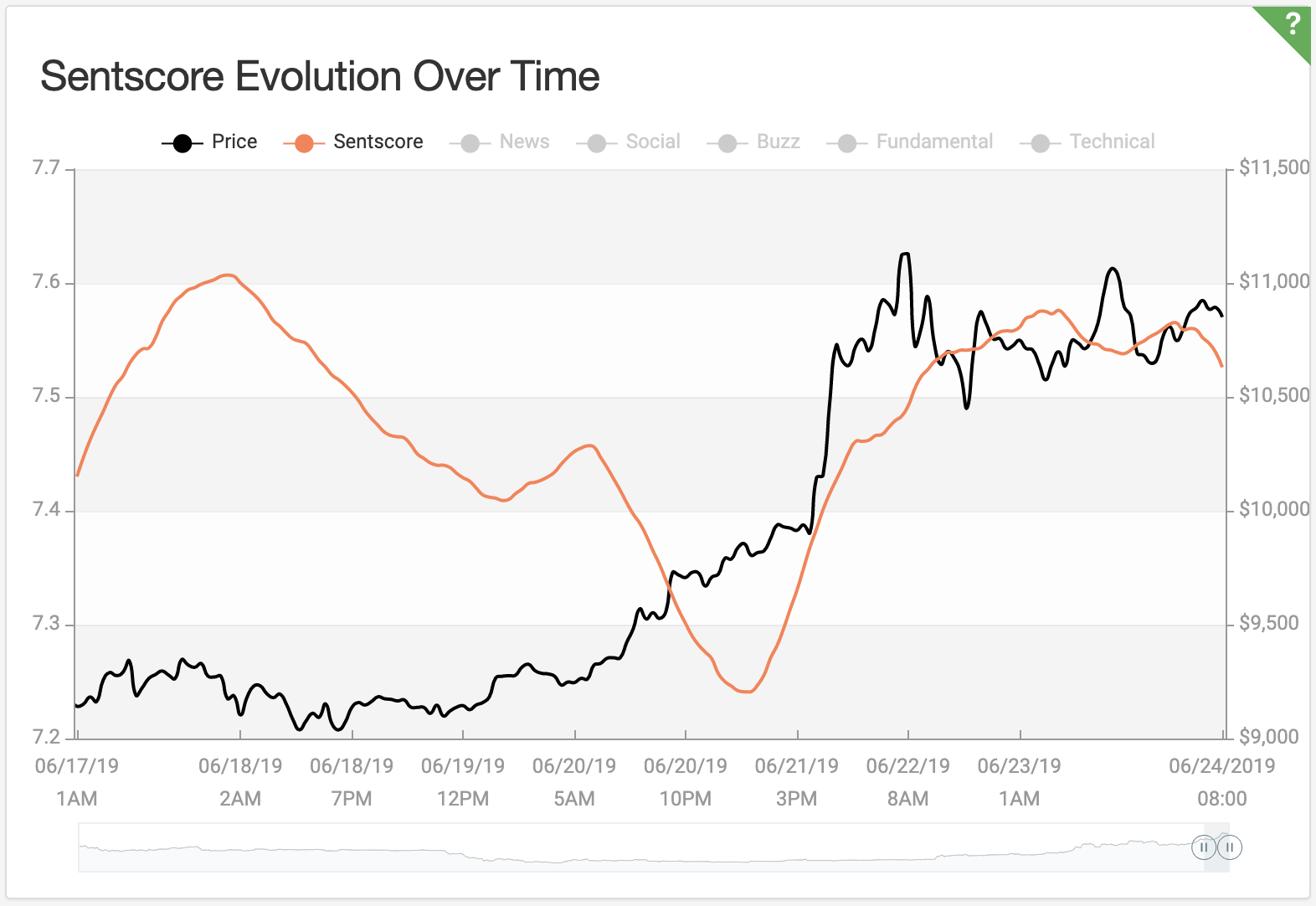 Similarly, the news sentiment indicator is "very positive" above 7.5 for most of the week: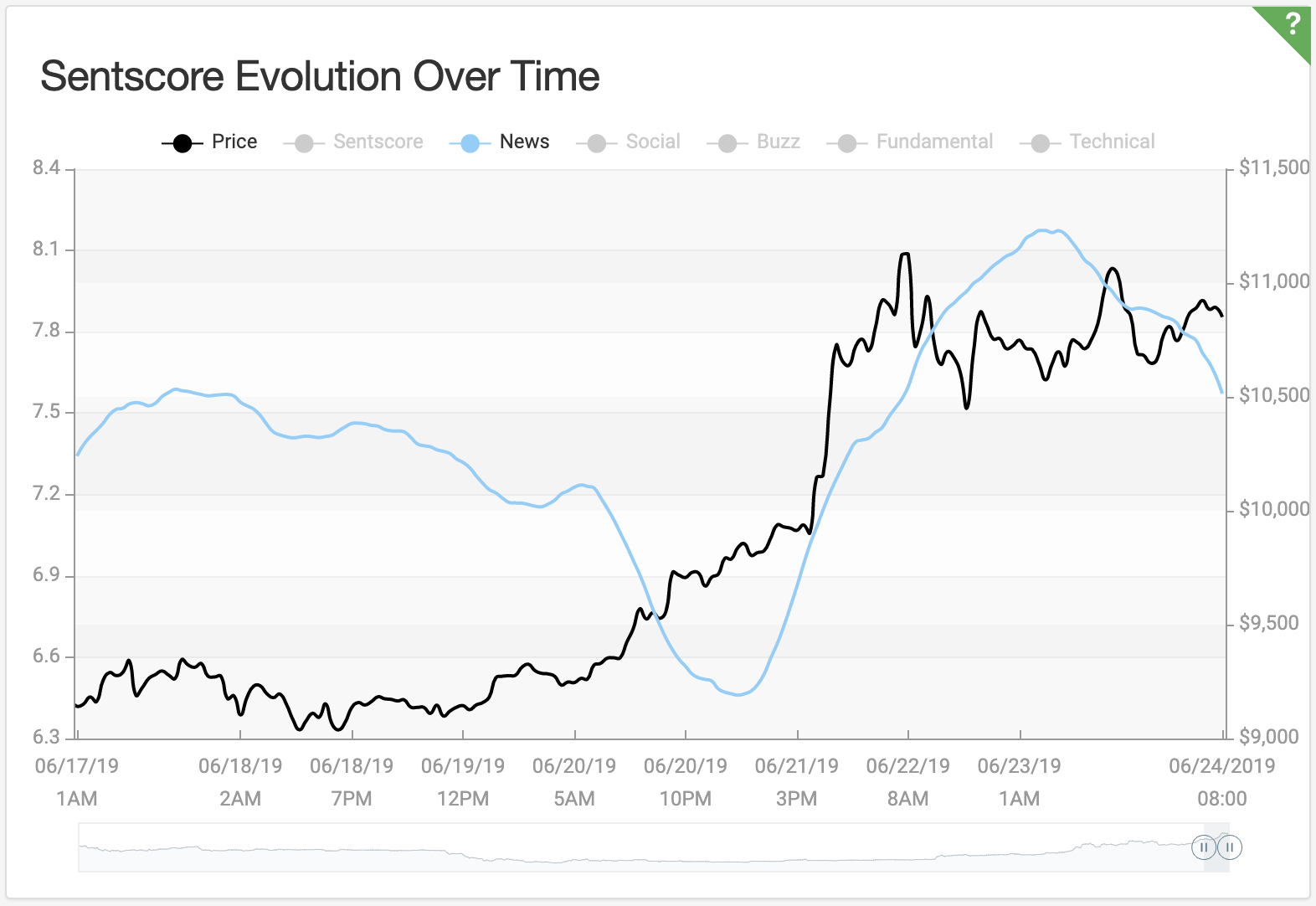 On the other hand, the social sentiment remains mostly "neutral" with the chart showing range-bound movement between 5.1-5.9.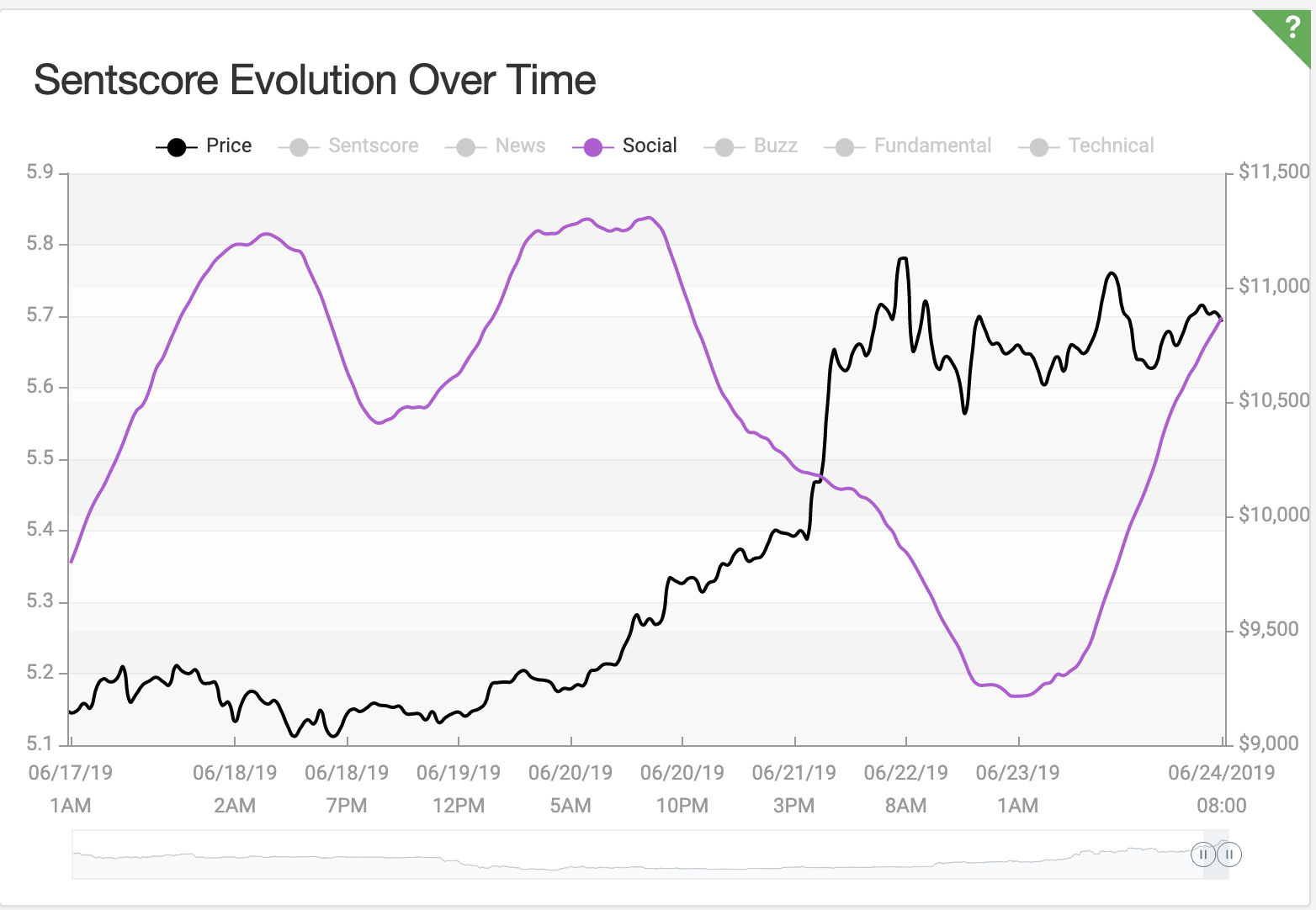 The buzz indicator shows that Bitcoin's continues to grab more attention as the chart shows northward progress.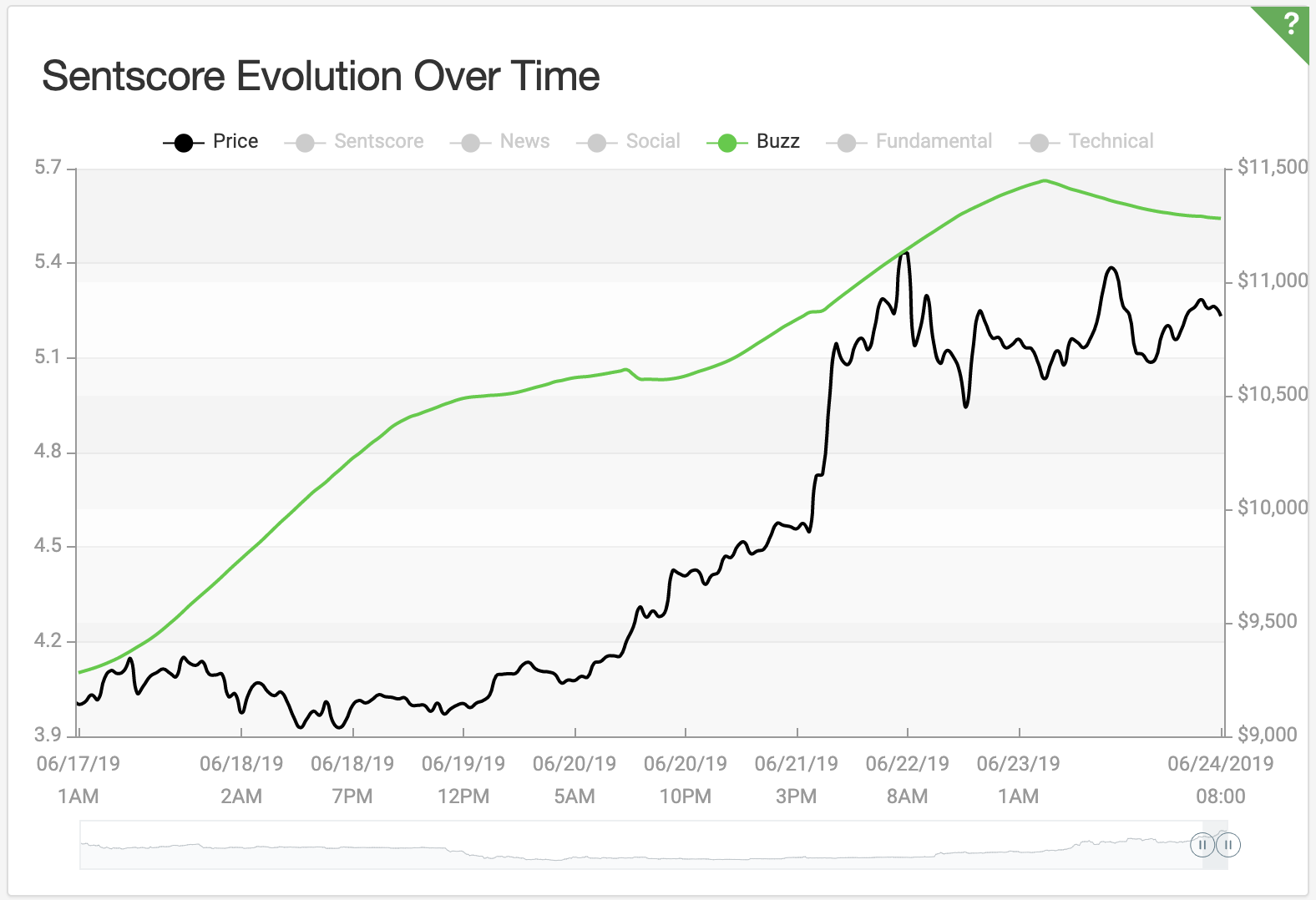 The technical indicator remains mostly volatile but continues to oscillate in the region above 7.5 showing "very bullish" trends.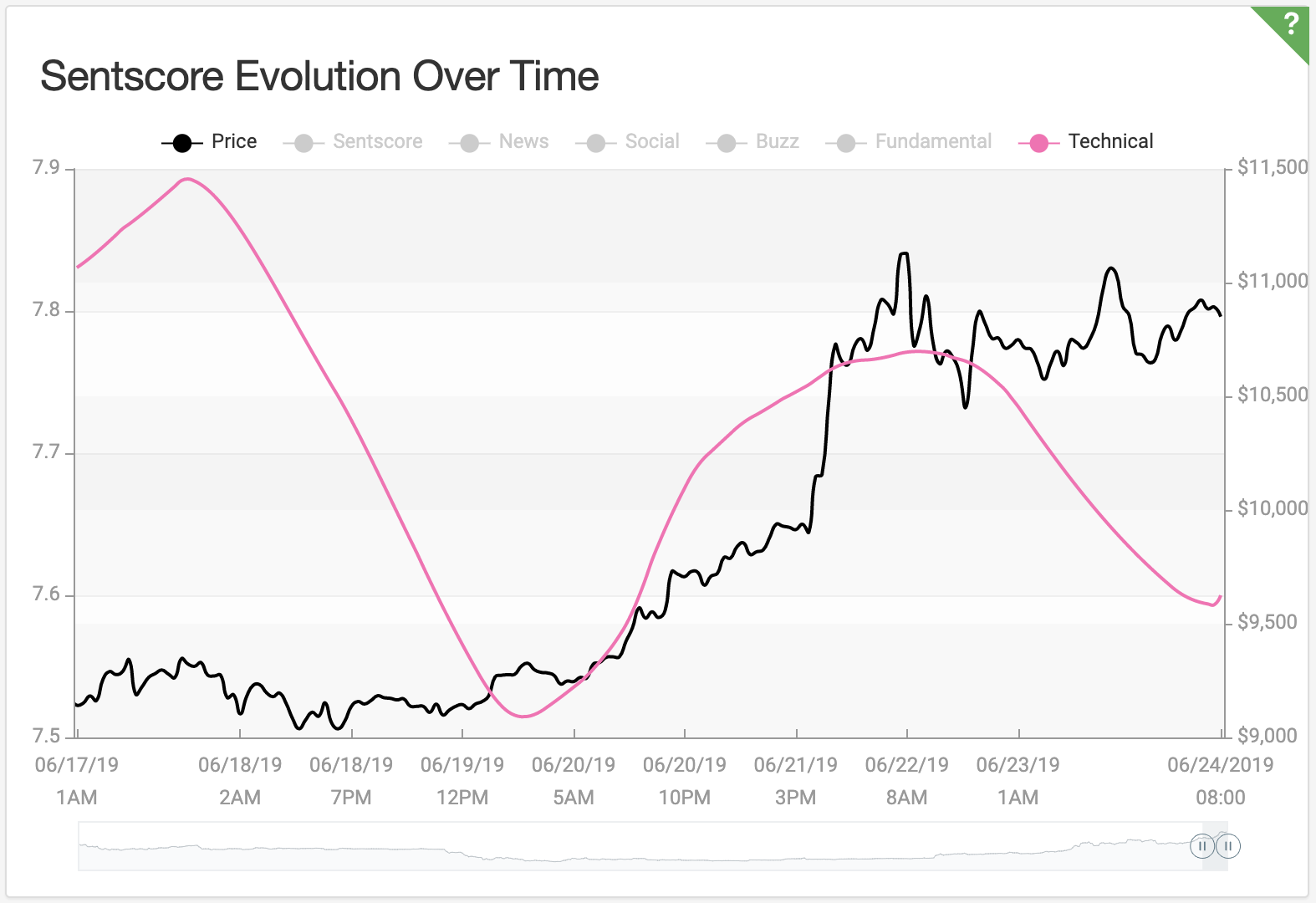 4. In order to outperform the stock market, large institutions will seek out "risk assets" like Bitcoin.
5. Bitcoin is perhaps the only institutional-grade crypto investment vehicle.
6. The supply of new BTC entering the market will drop in half again next year.

— Hans HODL (@hansthered) June 24, 2019
JP Morgan analyst acknowledges what has been relatively obvious for about two months already: it is mostly institutions behind the bitcoin bull-run, rather than retail investors, as it was during the 2017 mania. https://t.co/mErHKFradK

— Alex Krüger (@krugermacro) June 16, 2019
---