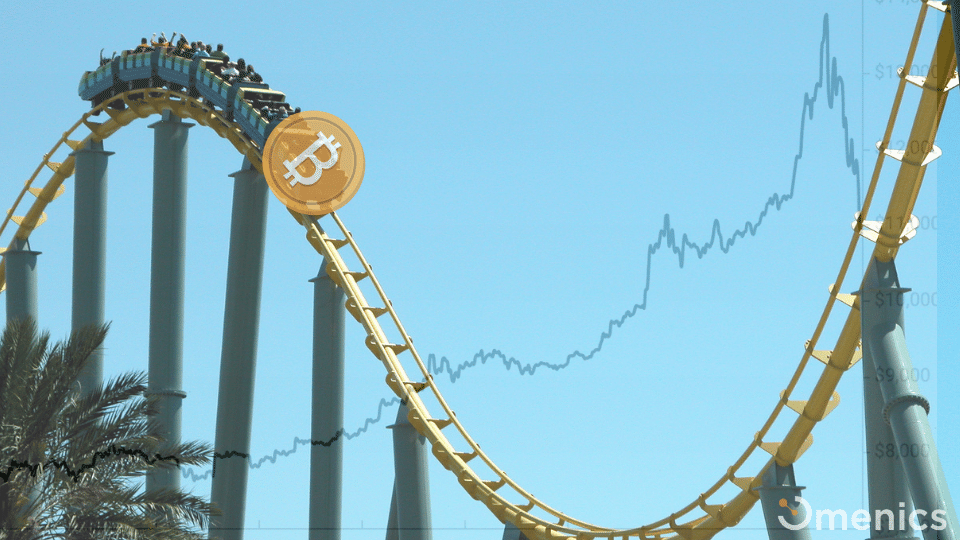 A massive Rally to the $13,700 levels
After surging for eight consistent session and giving investors 40% returns in one last week, Bitcoin has hit a speed breaker entering massive correction on Wednesday.
Over the last one week, the Bitcoin price surged in a massive price rally to make its new 2019-high before finally retracing back on Wednesday, June 26.
If we look at the Bitcoin price chart, it went all the way from $9300 levels on June 20, to surging above $13,700 levels on Wednesday, June 26. Bitcoin managed to give a whopping 40% returns to its investors in eight straight sessions of its price surge.
The Bitcoin price rally was supported by the launch of Facebook's Libra cryptocurrencies and maybe some global economic factors such as the Chinese Trade War. However, on Wednesday, June 26, the bears strike hard as Bitcoin has lost nearly $2000 in the last 24 hours losing over 15% in a massive price correction.
At the press time, Bitcoin is trading at $10,700 with a market cap of $191 billion. The daily trading volumes have crossed a massive $41 billion as Bitcoin continues to dominate over 61.7% of the overall cryptocurrency market.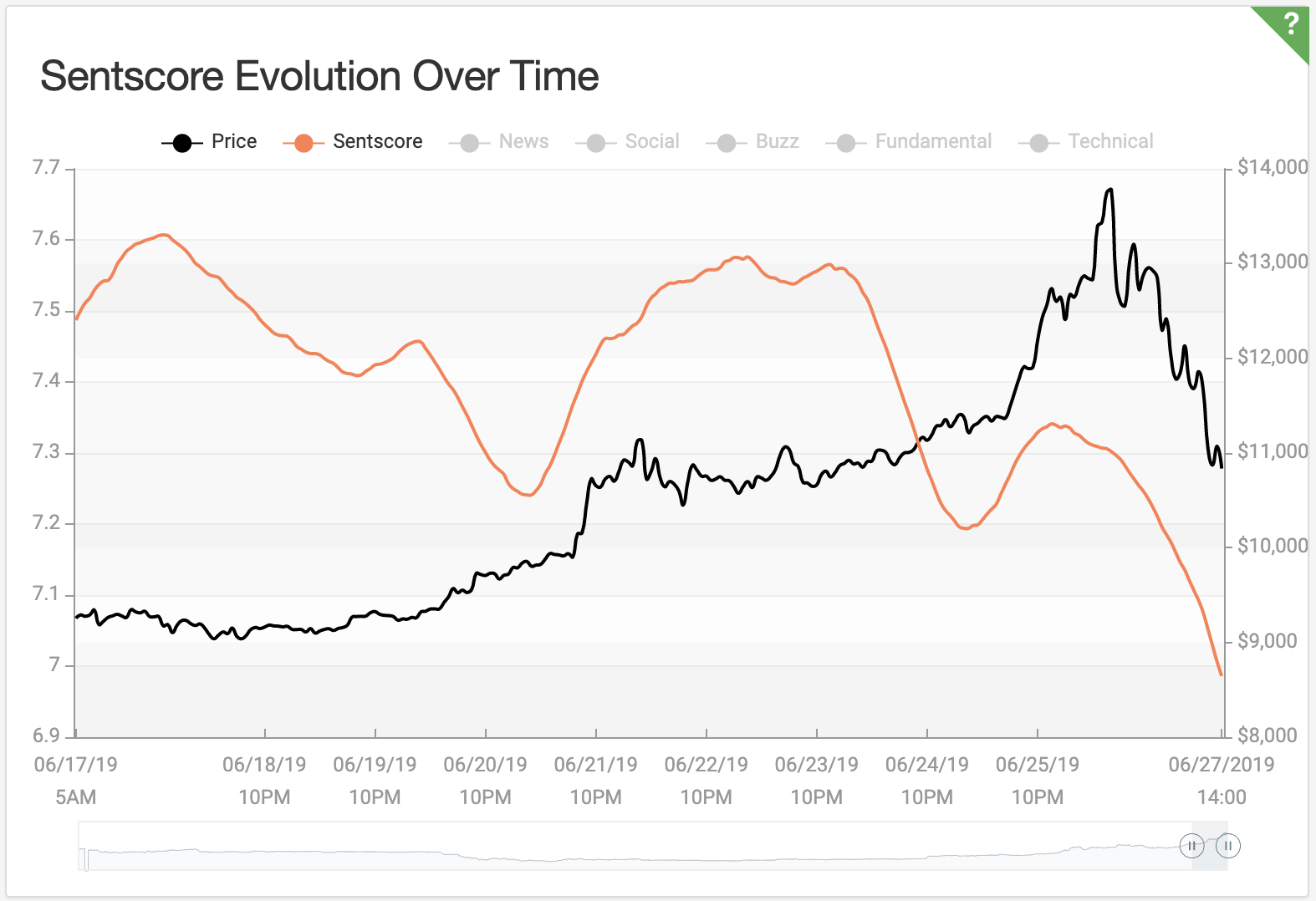 Omenic's Sentcore (our own proprietary sentiment indicator) for Bitcoin has left the
"very positive" zone when the Bitcoin price has crossed the $11,000 resistance
Comparing the Movements of Bitcoin and Gold
With the growing global economic uncertainty and rising tensions with the U.S.-China trade war, the most popular hedging commodity Gold is getting a lot of limelight. The gold price has surged nearly 10% in the last one month.
Some crypto analysts and financial experts often try to relate the Bitcoin performance to gold. Both are currently seen as a potential hedge to the falling traditional fiat value and the stock markets.
Recently, support of Gold investment Peter Schiff asked the investors to "buckle up" as Gold broke $1400 levels.
Spot gold just broke through $1,400. Buckle up!

— Peter Schiff (@PeterSchiff) June 21, 2019
Bitcoin investors who obviously tend to support the digital token over the precious metal commodity started to mock gold by growing comparisons of their recent performance.
Since this tweet

Bitcoin: +$3,000 / +30%

Spot gold: +$6 / +0.4% https://t.co/lBDawNyh3K

— Crypto₿ull (@CryptoBull) June 26, 2019
However, financial analyst Arthur Ven Pelt puts some interesting counter arguments suggesting that Gold's bull run can "eat Bitcoin alive". Pelt notes that Gold's existing market cap is $7.5 trillion while Bitcoin's market cap is $220 billion. Thus, even when Gold surges by just 3%, it adds the entire market cap of Bitcoin.
Gold market cap ~$7,500,000,000,000.
Bitcoin market cap ~$225,000,000,000.

When gold goes up 3%, it adds $225,000,000,000 to its market cap. Yes, that's the whole market cap of Bitcoin.

And that's how gold is going to eat Bitcoin alive in the upcoming gold/Bitcoin bull market.

— Arthur van Pelt - Dragon Industries (@MyLegacyKit) 26 June 2019
Data from goldsilver.com shows that BitPay customers are shifting their recent Bitcoin profits to buying gold.
Interestingly many people who made recent Bitcoin gainz put their money into gold according to data from https://t.co/t1JYtgR21Y I personally wouldn't do that because Bitcoin has still a lot of upside. But it's nice to see that people go from store of value to SOV instead of fiat pic.twitter.com/GjWhX7c6je

— Seba🚀 (@ColdHandsCrypto) June 26, 2019
Bitcoin proponent and eToro senior market analyst Mati Greenspan has also called Grayscale's "Drop Bitcoin" campaign as childish.
eToro analyst criticizes Grayscale Investments' "Drop Gold" campaign as "childish" https://t.co/Xe2Pq8pMJT

— Barry Silbert (@barrysilbert) May 7, 2019
Crypto Analysts Raised Pullback Warning After Bitcoin Crosses $13K
After the recent pullback in the Bitcoin price, some analysts have pressed the buzzer signalling further correction. On the other hand, others still continue to remain hopeful in this scenario looking to the recent bullish trend.
Popular crypto trader Josh Rager has shrugged-off the recent pullback as any major correction. He notes that this pullback is still minor in comparison to the earlier 20% price correction. Roger says that he would only consider this to be a serious downfall if Bitcoin slips below the mid $10K levels.
18% pullback on the $BTC day chart

If Bitcoin price pulls down to the mid $10ks... (20+%) I'd consider this a big pullback prior to continuation

At this point in time, I consider Bitcoin extremely bullish

18% pullback might be the new 30% pullback we're expecting

— Josh Rager 📈 (@Josh_Rager) June 26, 2019
Note that Bitcoin is currently trading at $11,000 and any correction further can lead to downward pressure. If Bitcoin corrects over 30% from yesterday's high, its price could break up to $9000.
13k was hit ✅

I hope to be wrong about a $BTC pullback towards 8400$ area but am hedged and prepared to #BTFD if it happens. https://t.co/bDqa8wUYF6

— SalsaTekila (JUL) (@SalsaTekila) June 27, 2019
Travis Kling, chief investment officer at Ikigai Asset Management, is eyeing further pullback and warned investors regarding the same. He tweeted:
Given this price action, now is a good time for a reminder:

BTC is going to pull back. It often does so in savage fashion. There have been 12 pullbacks of >30%. 6 of those have been >70%.

Another pullback will undoubtedly occur. Could happen tomorrow. Keep your wits about you.

— Travis Kling (@Travis_Kling) June 26, 2019
While speaking on the volatility of Bitcoin, popular crypto analyst Peter Brandt tweeted:
Talk about volatility. The break today in BTC would be the equivalent of the S&Ps dropping 500 points -- in 90 minutes. pic.twitter.com/CuN5lLTHvZ

— Peter Brandt (@PeterLBrandt) June 26, 2019
Crypto Exchange Hit With Outage
On Wednesday, June 26, cryptocurrency exchanges witnessed a massive rush of crypto traders. Crypto exchange Coinbase experienced an outage for a short time soon as Bitcoin lost over $1500 in just a few hours.
In its status update, Coinbase stated that the outage was all across its website, mobile app, and API. However, it also added that all its internal systems were working absolutely fine during the same period.
Popular trading app Robinhood also witnessed issues with its crypto trading service.
Bitcoin Crucial Support Levels and Long Term BTC Price Prediction
With yesterday's massive price crash Bitcoin has already broken its crucial support levels on the technical charts. Now the immediate crucial support for Bitcoin is $10k as it will be playing a crucial role in determining the next trajectory.
However, when Bitcoin has crossed $10K levels, many crypto analysts suggested mammoth targets for the cryptocurrency in the long term. Thomas Lee, the founder of Fundstrat Global Advisors, stated that if FOMO kicks-in Bitcoin can cross its previous all-time high of $20K by the end of 2019 and move ahead surging by 200% to 400% from the current levels.
#Bitcoin is blasting higher, and @fundstrat's Tom Lee tells @seemacnbc that it could hit new highs very soon $BTC pic.twitter.com/IWB2ImsJS8

— CNBC Futures Now (@CNBCFuturesNow) June 18, 2019
Crypto analyst 'Galaxy' tweeted that looking at the current candle-setup in the BTC chart, Bitcoin can possibly hit $62,000 price levels in the next 137 days.
Year 2017 had a similar weekly candle set-up as the one today, which was followed by a 570% price increase over the next 147 days.

Another similar price increase puts BTC price at ≈$62K by the end of October 2019. #bitcoin $BTC pic.twitter.com/M7NkHthY2M

— Galaxy (@galaxyBTC) June 17, 2019
Tulips don't bounce
Bitcoin does https://t.co/u8n1d9rGKA

— Alistair Milne (@alistairmilne) June 26, 2019
Bitcoin volume has never been this high in the 10 years of it's history.

We are entering uncharted territory.

— Rhythm (@Rhythmtrader) June 26, 2019
- friend: wow i saw Bitcoin was running hard. You must make a fortune

- You balls deep into alts: pic.twitter.com/wmOL3cvl5l

— The Crypto Monk ⛩ (@thecryptomonk) June 26, 2019
---