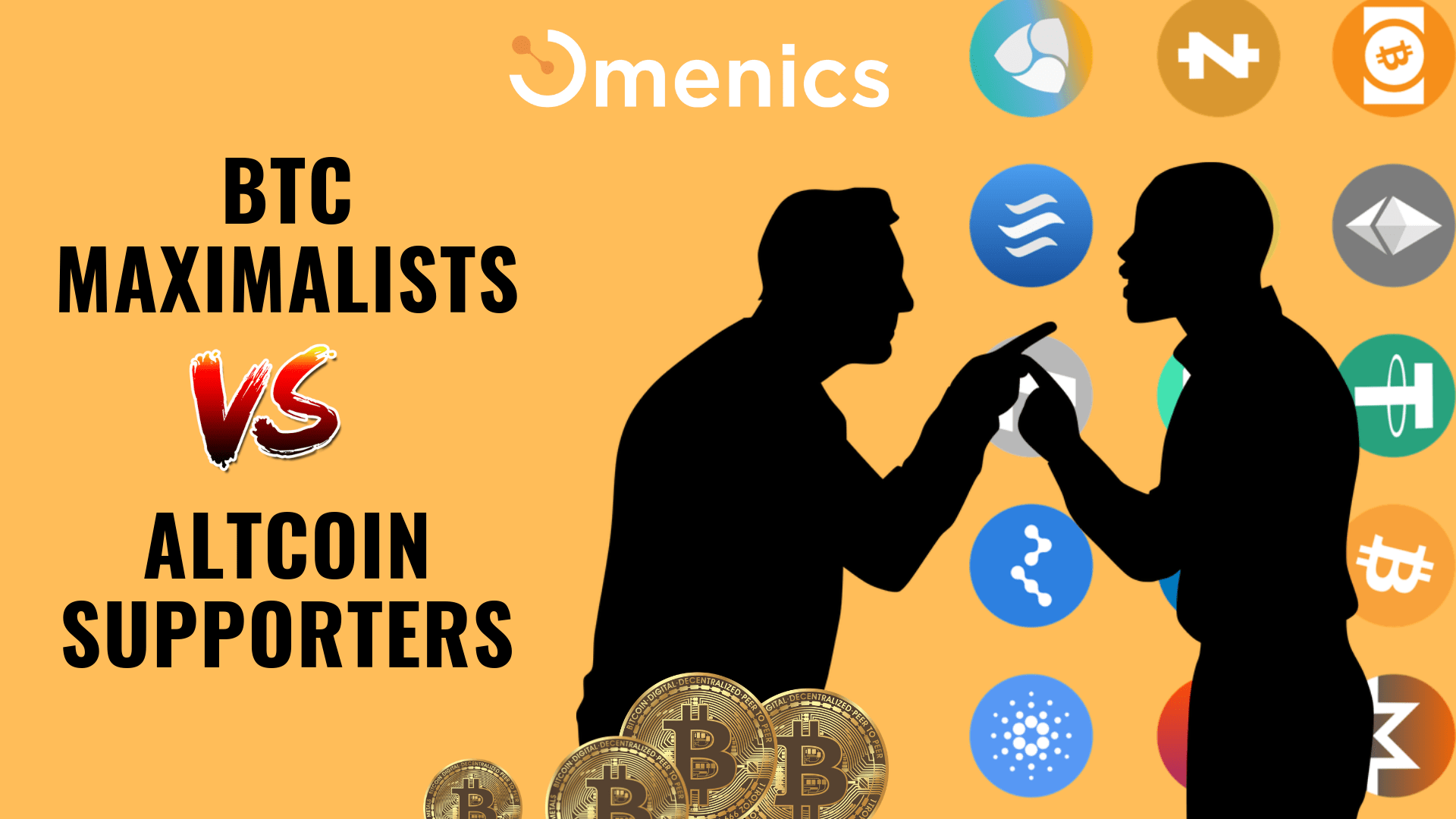 With Bitcoin currently resting after its market rally in the last three months, the classic debate of Bitcoin vs Altcoins triggers again with interesting inputs by crypto analysts.
This ongoing debate about BTC dominance impacting the altcoins is on the move. Bitcoin maximalists are glorifying BTC saying that the rest are "shitcoins" and BTC will destroy all the alts.
How far away are they from the truth? When will altseason start? Do any other coins apart from BTC have chances to survive in this rally?
Right now, a large part of trading volume from altcoins has gone to Bitcoin, with BTC dominance oscillating around 65%:
(chart from CoinMarketCap)
There is an interesting correlation pattern we can highlight between Bitcoin and altcoins: when BTC reaches its local ATH at dominance, altcoin season may start. As BTC dominance is nearly at its local ATH, we may assume that altcoin season is going to start soon.
For example, a three-month alt season in 2017 started in spring when BTC dominance capped at 63% and then dropped to 38%:
(chart from CoinMarketCap)
When Bitcoin bull run starts, altcoins can either follow BTC... or not!
If BTC volumes grow slowly and steadily, it could usually be followed by altcoins' growth, but if some new money flows into market and BTC volumes increase significantly, altcoins stay where they are (in dollar value) or drop.
In the current bullish trend altcoins haven't yet followed BTC, as there was a big spike in BTC volumes and price.
According to a classic cryptocurrency market cycle, having gained maximum from BTC, whales will move volumes to large-cap altcoins (coins from top 10) then to mid-cap alts (coins from top 100), and small-cap coins will finish the circle being the last one to pump. Then the cycle will start again with BTC.
Here is an infographic about this flow between BTC and Altcoins:
The Debate Between Bitcoin Maximalists and Altcoin Supporters
It won't be too much to say that Bitcoin has single-handedly driven the crypto market rally this year since April 2019. In the last three months, the cryptocurrency market cap surged by $160 billion of which Bitcoin alone added $125 to it. As on date, Bitcoin alone contributes a massive share of around 65% in the overall cryptocurrency market.
This has sparked off the classic debate of Bitcoin vs Altcoins as crypto market analysts are drawing different parallels in the coming scenario.
The opinions remain mostly divided as one faction believes that based on the historical trends the altseason will soon kick-off. It's the same scenario like December 2017 where Bitcoin rally cooled-off after the cryptocurrency hitting $20,000 and altcoins taking up the show ahead.
Moreover, there's always been a negative correlation between Bitcoin and Altcoins. So with Bitcoin consolidating currently, the altseason is expected to pick up.
Very similar to what happened a few weeks before the 2017 #altseason began 🤔

— CryptoCompetent 📈 ₿ (@CryptoCompetent) July 10, 2019
However, there is also a contrarian view that unlike December 2017, there's a massive development in the Bitcoin ecosystem and the world's largest cryptocurrency will be invincible thereby crushing the altcoin market altogether.
Let's look at what both sides have to present here.
Backing the Altcoin Season
Twitter crypto trader Crypto Michael lists different factors behind the Bitcoin's recent correction and its struggle to surge past $11,600 levels. Michael notes that this could turn in favour of altcoins:
$BTC #BITCOIN

Well,
▫️Couldn't break above $11,600 due to low volume & rising wedge created.
▫️Couldn't hold $11,450 and dropped to $11,000.
▫️Right now $11,300 flipped as resistance.
▫️Pretty much a copy of the left one -> longer timescale.

Would be great for alts. pic.twitter.com/3oXEdQG5eY

— Crypto Michaël (@CryptoMichNL) July 7, 2019
In another tweet, he also states that Bitcoin crushed its parabolic patterns, ETH surged from $400 to $1424 and XRP surged from $0.20 to $3.18.
Another Crypto trader on Twittern, Satoshi Flipper, said that if Bitcoin breaks down from these levels, the altcoin setup is strong to pull the crypto market rally ahead.
$BTC bullish trade idea 🔥

- 60/40 bullish/bearish here

- Although, nice #alt setups are starting to form everywhere

- If we breakdown, will modify allocation to 50% $BTC, 50% #alts from the 75/25 at present pic.twitter.com/XEgKpd4cqr

— Satoshi Flipper (@SatoshiFlipper) July 7, 2019
According to 'justfive' the altcoin accumulation is currently building up and it would be the BTC's next move which will decide whether or not altcoins will rally ahead.
Obviously won't be as nuanced in case of a more violent move, but the moral of the story is the same:$BTC playing out a broader retrace after the blow off = alts will reach good HTF deadcat resistances at the very least$BTC beginning next leg up = no need to really say

— justfive (@crymeaCOIN) July 7, 2019
Another popular analyst Moon Overload predicts that altcoins will remain under accumulation until 2020 and won't rally until then. He predicts that altcoins will make a move northwards post 2020, after the accumulation phase ends.
$BTCUSD 2012 - 2015

VS.#Altcoin Marketcap 2016 - 2019

We're now entering the accumulation period for $ALTS, it will likely last until 2020.

2020... 🚀 pic.twitter.com/6gjY8nnsiK

— Moon Overlord (@MoonOverlord) July 6, 2019
In a survey conducted by popular Twitter handle Don Alt in April 2019, nearly 47% of the 10,000 traders who voted stated that they have around 60-100% of their portfolio in altcoins.
Register (Free) or Sign In to read the second half of this article.
OR

---