Analysts suggest that there's a strong technical build-up for XRP's price to surge above $0.50 levels.
Summary
XRP Price Movements and Technical Build Up
Top XRP and Ripple Recent News
XRP Market Analysis Using Omenics' Sentscore
1. XRP Price Movements and Technical Build Up
Despite being the world's third-largest cryptocurrency by market, XRP has stayed somewhat hesitant to participate in the crypto market rally in the last two months. XRP is currently trading above $0.40 with some modest daily trading volumes above $1.4 billion.
Over the last two weeks from today, XRP price swing has shown movements between $0.38 - $0.48 as seen in the chart above. The chart shows that despite the steady rise earlier, XRP lost momentum.
However, XRP has managed to stay above its crucial support levels of $0.40 despite the recent fall in its price. At press time, XRP is trading at a price of $0.40 with a market cap of $17.3 billion.
A number of comments from crypto traders say that strong technicals are building up for XRP and the cryptocurrency is poised to surge northwards to $0.50.
$Xrp

Once more we are testing resistance as reach the appex of the pennant
This looks good, I can only seeing $Btc volatility disrupting this from the first target mentioned few days ago, at 51cents

Use SL loveys x https://t.co/wERjHtp83I pic.twitter.com/zc2zKS84Zh

— The Cryptomist (@TheCryptomist) June 2, 2019
1D $XRP (USD)

- 100% bull cloud
- exiting bear PF
- Golden Cross
- minimal VPVR res remaining
- asc tri?

unfortunately, this will likely move up soon 🤮🤮 pic.twitter.com/joRN3CgSLb

— Josh Olszewicz (@CarpeNoctom) June 2, 2019
$XRP

Got me some xpr with tight stops. Looks like its about to burst.

When face melt? #XRPtheGoldStandard pic.twitter.com/wyUWlJtRuC

— Lannister (@le_Lannister) June 5, 2019
"Gordon Gekko" is, in fact, ultra-bullish on XRP to rise. Citing historical "daily golden" chart patterns in 2017 and XRP's price surge to $4 levels post that, Gekko expects similar price shoot-up ahead in a few weeks. According to Gekko XRP's price could hit anywhere between $7-10 in the next 3-6 weeks.
For you all that didn't witness 2017 we hit the daily golden cross at .20 quickly over 3 weeks hit 3.50 golden cross 2019 at approx .40 a redo could mean a 7 dollar $xrp in 3 weeks with utility 10 bucks +++

— Sir Gordon Gekko (@gordongekko369) May 28, 2019
2. Top XRP and Ripple Recent News
In May, Ripple and Ria Money Transfer, a major Money Transfer Provider, have announced that they were partnering



Germany's second largest stock exchange Börse Stuttgart announced that it will allow investors to purchase XRP-based exchange-traded-notes (ETNs) directly from its platform.





Japanese financial giant SBI Holdings plans to soon launch the in-store payments using the Ripple-powered 'Money Tapp' app. The application uses Ripple's xCurrent payment solutions for facilitating live payments at affiliated merchants and restaurants.





SBI stated that the in-store payments will bring a "merchant settlement service that combines convenience and security."





Ripple-backed crypto startup XRPL Labs has confirmed that the company is developing a new app allowing users to seamlessly send crypto from one wallet to another. Dubbed as Xign, the app will be a fully-fledged mobile-banking platform allowing users to spend and hold Dollars, Euros, XRP, and other currencies.




XRP is facing tough competition as a consortium of banks across Europe, Asia, and the U.S. have announced a new digital token dubbed Utility Settlement Coin (USC) for instant cross-border settlements.


The oldest Thaï Bank, The Siam Commercial Bank, may have informed a twitter user that XRP would be used soon (tweet has been deleted)


There is also a probable fake news / rumour on twitter that Ripple would have acquired Moneygram
3. XRP Market Analysis Using Omenics' Sentscore
The Omenics Sentscore chart shows that the overall market sentiment for XRP has been growing in the last two weeks between May 21-June 4. However, the Sentscore remains mostly in the "neutral" zone at 4-6.
The news sentiment chart has oscillated in the "positive" and "very positive" regions but has now dropped to the "neutral" region: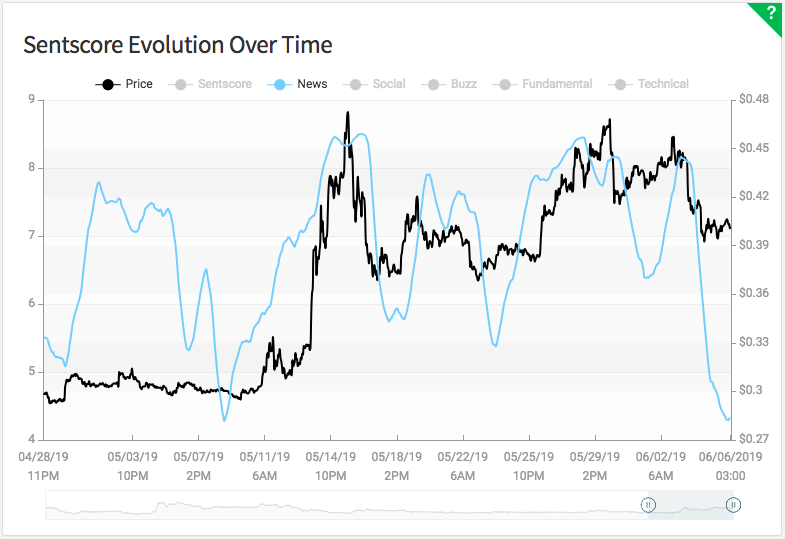 The social sentiment surrounding XRP had started rising to the higher level of the "neutral region". But the sentiment, after nearly touching the positive zone (5.9), dropped to the middle of the neutral zone following the June 3rd price drop :
The buzz score for XRP has been of the falling edge so far in the last two weeks:
The XRP technical score (XRP/BTC) shows a strong surge for XRP moving from the "negative" zone to now oscillating in the "neutral" zone:
Still waiting for $XRP to resolve.

We shortin or longin? pic.twitter.com/bg7ez9QpGS

— CryptoDude (@cryptodude999) June 5, 2019
Sign up for free and explore more content and crypto analytics
---