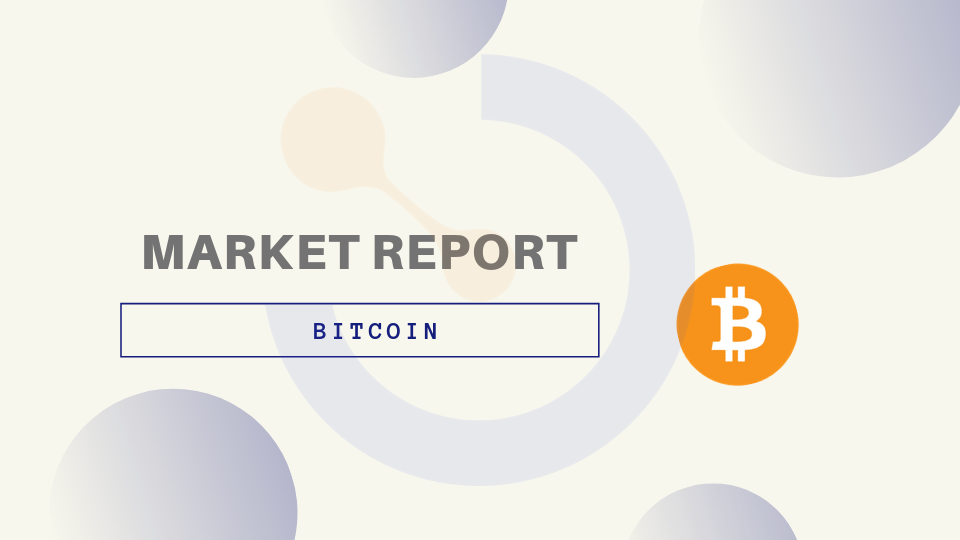 Bitcoin was majorly on a correcting note last week, with the world's largest cryptocurrency market ca losing $40 billion
As we enter the third week of July 2019, Bitcoin continues to be the talk of the town. Following the negative trend of the previous week, Bitcoin saw over 15% correction in the last week. Although the week started on a good note with Bitcoin climbing just over $13,000 on July 10, it slipped to around $10,000 yesterday Monday, July 14.
However, this Bitcoin price correction was a part of the overall crypto market correction.
At the press time, Bitcoin is trading at $10,750 levels with a market cap of $191 billion, the bearish momentum is still hovering over the world's largest cryptocurrency.
Bitcoin dominance in the cryptocurrency market has surged over 66.6% and its recent consolidating position has sparked-off the Bitcoin vs Altcoins debate. Some crypto industry enthusiasts think that the rally in altcoin space will start soon just like the post December 2017 rally.
However, some experts believe that the Bitcoin infrastructure has matured considerably since January 2018 and this time, it will crush the altcoins in its next rally.
Top Recent Bitcoin News
Bitcoin continues to draw the attention of government bodies and regulators and this time it was the US President Donald Trump tweeting on it. However, Trump's remarks were not positive towards Bitcoin. He said that he's "not a fan" of Bitcoin and cryptocurrencies in general.



Trump stated that cryptocurrencies have become a tool for illicit activities and that his government won't "tolerate" it. He said that the most "dominant" and the only "real currency" is the US Dollar.
I am not a fan of Bitcoin and other Cryptocurrencies, which are not money, and whose value is highly volatile and based on thin air. Unregulated Crypto Assets can facilitate unlawful behavior, including drug trade and other illegal activity....

— Donald J. Trump (@realDonaldTrump) July 12, 2019
....Similarly, Facebook Libra's "virtual currency" will have little standing or dependability. If Facebook and other companies want to become a bank, they must seek a new Banking Charter and become subject to all Banking Regulations, just like other Banks, both National...

— Donald J. Trump (@realDonaldTrump) July 12, 2019
...and International. We have only one real currency in the USA, and it is stronger than ever, both dependable and reliable. It is by far the most dominant currency anywhere in the World, and it will always stay that way. It is called the United States Dollar!

— Donald J. Trump (@realDonaldTrump) July 12, 2019
Some famous crypto personalities like Brian Armstrong and Jeremy Allaire took Trump's remarks in an optimistic manner. While Armstrong alluded that Trump's remark on crypto assets is an "achievement" in itself, Allaire said that this could be the largest Bitcoin bull signal ever.

Achievement unlocked! I dreamt about a sitting U.S. president needing to respond to growing cryptocurrency usage years ago. "First they ignore you, then they laugh at you, then they fight you, then you win". We just made it to step 3 y'all. https://t.co/N3tzUKELaK

— Brian Armstrong (@brian_armstrong) July 12, 2019
Possibly the largest bull signal for BTC ever. Crypto now a Presidential / Global policy issue. People everywhere will embrace a mix of sovereign and non-sovereign digital currency. https://t.co/PK79wmCddM

— Jeremy Allaire (@jerallaire) July 12, 2019
On the other hand, during a recent testimony before the U.S. Senate, Federal Reserve Chairman Jerome Powell said that he sees Bitcoin as a "store of value" and not as a payment method.

"It's a store of value" — Jerome Powell, Chairman of the Federal Reserve talking to the Senate Banking Committee about Bitcoin

THE VIRUS IS SPREADING 🔥

— Pomp 🌪 (@APompliano) July 11, 2019
The lawmakers discussed the changing dynamics of global finance and immediate concerns ahead. Speaking to the senators, Powell hinted that there is every possibility that Bitcoin could pose a long-term challenge to the U.S. Dollar as a reserve currency. He said that the U.S. should not assume that the USD will act as a reserve currency forever.

POWELL: DON'T ASSUME USD STATUS AS RESERVE CURRENCY PERMANENT

— zerohedge (@zerohedge) July 11, 2019
Crypto advocate and fugitive American entrepreneur John McAfee recently said that he expects Bitcoin to touch $1 million by the end of 2020. That's nearly 100 times or 1000% from the current levels.



Bitcoin is at the mid 10's and people worry. LMFAO!! Why do you pay attention to weekly fluctuations? Look at the past few months FFS! It's rising drastically. I'm still positive about my $1 mil BTC price by the end of 2020. Alt coins like MTC and Apollo will rise ten times more.

— John McAfee (@officialmcafee) July 14, 2019
One of America's oldest banking institutions Well Fargo has clarified that it doesn't allow its customers to buy Bitcoins or other cryptocurrencies. The matter came to light where one of the customers expressed concern on not being able to purchase crypto on Coinbase using the Wells Fargo debit card.


Thanks for reaching out to us. Unfortunately, Wells Fargo does not allow transactions involving cryptocurrency. -Josh

— Ask Wells Fargo (@Ask_WellsFargo) July 12, 2019
Bitcoin's Weekly Report Using Omenics' Sentscore
Today's Bitcoin scores
The Omenics' Sentscore chart shows that the overall market sentiment dropped with the BTC price drop last week. The overall market sentiment for Bitcoin is now back to neutral at 5.5:
The news sentiment indicator graph has dropped from the "positive" zone to the "negative" zone in the last week.
As per the Sentscore "social" chart, the social sentiment for Bitcoin remains "neutral" over the last week. The graph oscillates in a close range between 4.5 and 5:
The "buzz" indicator showed an upward movement earlier in the week but turned its direction downwards with the BTC price correction. The "buzz" remains in the "neutral" zone meaning there is moderate level of discussion around Bitcoin in the last week:
With the BTC price fall, the technical chart collapsed from the "very positive" region above 7.5 to now in the "neutral" region, confirming that Bitcoin has lost its "bullish" momentum:
---