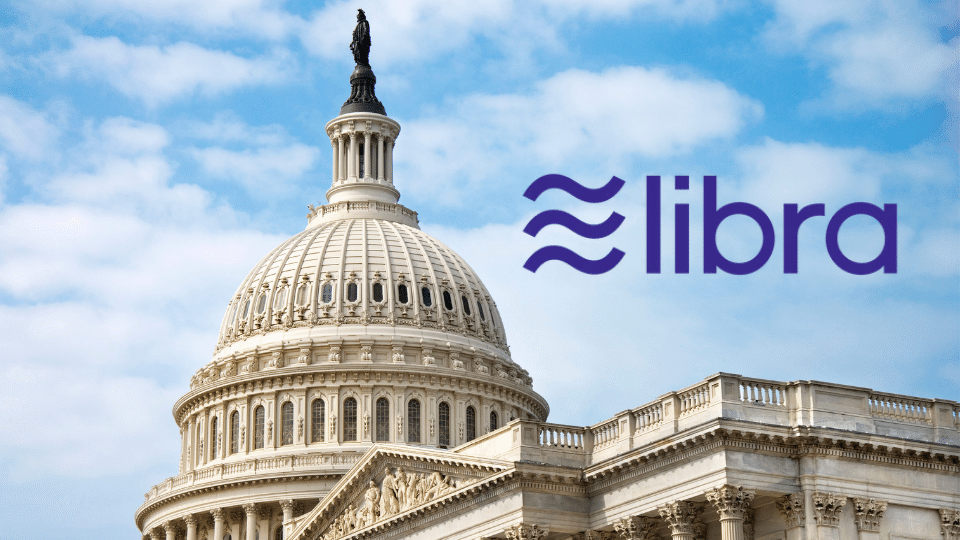 US lawmakers look nervous and desperate as they propose a draft bill to prevent big tech from entering the financial space.
As per the scheduled hearing on Tuesday, July 16, Facebook's blockchain division head David Marcus appeared before the U.S. senators to testify and clarify their concerns on Facebook's upcoming release of its native cryptocurrency Libra.
In his opening statement, David Marcus said:
"Our first goal is to create utility and adoption, enabling people around the world – especially the unbanked and underbanked – to take part in the financial ecosystem".
U.S. Senators Make Sharp Attack on Facebook Libra
The U.S. senators look all prepared to make sharp attacks on Facebook's Libra Project, as it was very well anticipated. The senators were pressing Facebook on privacy and trust concerns. Facebook's last year's goof-up in handling user privacy and data has put the company in a bad light.
Senator Sherrod Brown of Ohio asked Marcus to explain to him the reasons why should people trust Facebook with their hard-earned money. Although Marcus had no specific answer to this, he admitted that Facebook's certainly has "no special privilege".
But senator Brown didn't stop there. He asked Marcus what could his fellow leaders say that will convince Facebook to not launch Libra.
Marcus smartly replied to it saying that the US must take the lead in digital currencies:
"If our country fails to act, we could soon see a digital currency controlled by others whose values differ radically from ours"
Senator Jon Tester questioned Libra's ability to prevent loss of funds and fraudulent purchases. Marcus said that Facebook will do its best to resolve such issues and claims in the quickest possible manner. You can listen to the full Senate hearing below:
LIVE: David Marcus, who leads Facebook's Libra and blockchain efforts, is set to testify before the Senate Banking Committee https://t.co/MBQDHvlU5b

— Bloomberg Crypto (@crypto) July 16, 2019
Facebook Will Comply With FinCEN
Senator Cortez Masto asked one of the most pressing questions of the crypto industry. He asked Marcus what assurance will Facebook provide to address issues relating to the use of Libra for terror financing and money-laundering.
Marcus responded saying that Facebook is committed to fair practices and added that the distribution of the Libra stablecoin will happen in compliance with the United States Financial Crimes Enforcement Network (FinCEN). He said that Facebook wallet "Calibra will be affordable and accessible and also safe and secure".
Marcus also said that Facebook will be having a separate anti-money-laundering program.
Marcus also assured that Facebook has no ambitions to meddle or interfere in the country's monetary policy. He added that the Libra Association will work with other central banks and the US Federal Reserve and make sure that it doesn't compete with the sovereign currencies.
Lawmakers Push the Need for Having Strong Regulatory Measures
Before the entry of Facebook in the crypto space, the US lawmakers were not giving due attention to crypto regulations. However, with the participation of big companies lawmakers have understood the need of having strong and robust crypto regulations in place.
After the Senate hearing, Senators Mike Crapo and Sherrod Brown stressed on having strong regulations. Senator Crapo raised the need for having strong regulatory measures for data protection, not only for Facebook but the overall tech industry:
"We've got to look at how we structure data protection in the United States […] We need to move to a comprehensive approach. What that structure exactly is, I can't tell you."
Senator Brown agreed to Crapo's views by adding that the public no longer trusts big tech companies:
"Clearly, Americans don't trust Wall Street. They now are putting big tech and big banks in the same category. Because they've seen the betrayal and the undermining of our democratic values in Facebook and in other tech companies."
Day 2 of the Hearing
On Wednesday, July 17, the second day of the hearing, lawmakers continued to corner David Marcus. Committee chair Rep. Maxine Waters attacked Facebook saying that the company had a "demonstrated pattern of failing to keep consumer data private". Furthermore, she added that Facebook even allowed Russian state actors to use it platform to influence the U.S. Presidential elections of 2016.
Rep. Maxine Waters has been largely critical on Facebook's ability to deliver such a huge project and has been constantly attacking the social media giant ever since the announcement of Libra. Despite Marcus' best attempt to convince the senators, Waters seemed dissatisfied with his answers and said that he 'skirted' most of the questions.
"I think he skirted some of the most significant questions," said House Financial Services Chairwoman Maxine Waters about the panel's hearing with David Marcus, the executive in charge of Facebook's cryptocurrency and blockchain products https://t.co/u8t1GWbfWL pic.twitter.com/FIURIMPTnu

— Bloomberg TV (@BloombergTV) July 17, 2019
Senator Perlmutter asked Marcus some important questions on the Libra's reserves. Whenever a user buys Libra using a traditional currency, the money will go in reserves and stay there until the user withdraws it from the system.
The Calibra's custody of token means that the company can move the coins between its user wallets without relying much on blockchain. The only time blockchain comes into picture is when the user wants to deal with things outside the Libra ecosystem. Senator Perlmutter asked how will Facebook deal with this matter.
Marcus said that his company is currently discussing this issue with the G7. In a sharp response Senator Perlmutter said:
"We think you're a bank but you're not a bank. If you were a bank, we would regulate heck out of you. I want to support you but also don't want to see anybody hurt here."
Davis Marcus, however, reiterated it several times that one of the major areas Facebook is focusing is getting stability to the crypto markets. He said that most of the cryptocurrencies available today are highly volatile.
But House Minority Leader Kevin McCarthy is not pleased with Facebook's stability proposition and he said:
"When I'm on Facebook, I'm not the customer, I'm the product. Facebook is free because they sell your data to make money. Now they want to get into the business, and they're not Bitcoin, in this Libra. They're not decentralized."
In a surprising stand McCarthy praised the decentralized Bitcoin cryptocurrency and the blockchain technology behind it. He also stressed that the government should use the blockchain technology. Speaking to CNBC, McCarthy said:
"I like Bitcoin and the security of the blockchain ledger technology behind cryptocurrencies. Is it where it needs to be? No, but the real thing I like when it comes to Bitcoin is blockchain, 'cause I like the security. I want government to actually start using blockchain."
McCarthy later added that Bitcoin is still vulnerable to be busboy money launderers and criminals.
House Minority Leader Kevin McCarthy said "I like Bitcoin" on national television in an interview with @JoeSquawk this morning.

It would be incredible if supporting Bitcoin became the cool thing to do for politicians 🙏🏽

— Pomp 🌪 (@APompliano) July 16, 2019
While most of the senators in the house were grilling Marcus, Republican Sen. Pat Toomey of Pennsylvania took a different stand. In another interview, Toomey called Facebook's Libra an "exciting innovation".
"I don't want to presume in advance that we've got to prevent the development of some new innovation," Toomey said. "Maybe there could be some innovation in this space that would provide security and that would dramatically lower the cost of transactions."
Here's the Complete Hearing from Day 2:
LIVE: House questions Facebook on Libra, the company's proposed cryptocurrency https://t.co/BKVySebB22

— Bloomberg Crypto (@crypto) July 17, 2019
Experts Views and Thought By Famous Crypto Personalities
While the senators created a huge cry over Libra's threat to the financial system, famous Bitcoin critic Jamie Dimon, the chief of JP Morgan, said that Libra doesn't pose a threat in the short term.
Note that JP Morgan is already working on its native cryptocurrency JPM Coin. The bank has said that it would use this cryptocurrency for faster settlements among its international clients. When asked whether Libra could be a major challenger to JPM Coin, Dimon said:
"We don't mind competition. The request is always going to be the same: We want a level playing field. And governments are going to insist that people who hold money or move money all live according to rules where they have the right controls in place; no-one wants to aid and abet terrorism or criminal activities."
In a small interview with CNBC, CoinShares Chief Strategy Officer Meltem Demirors explained why the Congress is wrong on the views on Bitcoin and Libra.
After testifying on Capitol Hill, @Melt_Dem explains what Congress is getting wrong about bitcoin and Facebook's Libra $FB $BTC pic.twitter.com/JFW7bCwr9f

— CNBC's Fast Money (@CNBCFastMoney) July 17, 2019
Ripple CEO Brad Garlinghouse said that he is satisfied with the debate and stated that the industry is moving towards maturity. He said that the latest hearing has at least made the lawmakers to acknowledge that Digital Currencies and the blockchain technology are for real. Read the below thread.
I'm heartened by the (largely) thoughtful dialogue from this week's congressional hearings on @Libra_ . Committee members are supportive of blockchain and payments innovation in the U.S., but skeptical that Facebook is the right steward given the history of broken trust. 1/4

— Brad Garlinghouse (@bgarlinghouse) July 17, 2019
Steven Mnuchin's Press Briefing At the White House
US treasury secretary Steven Mnuchin made some sharp remarks about Facebook's Libra cryptocurrency saying it could be a potential tool for criminal activities.
Mnuchin's remarks come just a few days after US President Donal Trump expressed his discomfort with cryptocurrencies while also mentioning Facebook Libra, in a series of tweets.
On Monday, July 15, while addressing a press conference, Mnuchin said that he is "not comfortable" with the arrival of Libra in the financial ecosystem. At the press briefing at the White House, Mnuchin said that he has "some serious concerns" with cryptocurrencies in general.
In his initial address, Mnuchin said: "Libra could be misused by money launderers and terrorist financiers. This is indeed a national security issue."
As per the report by Wall Street Journal, Mnuchin also said that he is ok if the Libra coin has a payments systems with proper anti-money-laundering safeguards addressing the issue of illicit use of cryptocurrencies. But, Mnuchin also cautioned that Facebook has "a lot of work to do to convince us to get to that place."
US Lawmakers Panicking With Big Tech Giants Entering the Crypto Space
Ran Neuner, the host at CNBC's Crypto Traders says that the US lawmakers are in a panic mode citing the upcoming digital revolution.
As per the recent Reuters report, the Democratic majority leading the House Financial Service Committee has circulated a draft bill named "Keep Big Tech Out of Finance Act". The bill proposes that
"A large platform utility may not establish, maintain, or operate a digital asset that is intended to be widely used as medium of exchange, unit of account, store of value, or any other similar function, as defined by the Board of Governors of the Federal Reserve System".
The bill states that tech companies with over $25 billion in annual revenue should be kept away from the financial space. It also asks imposing heavy fines of $1 million every day in the case of violation.
CNBC analyst Ran Neuner shows that this clearly shows the desperation of the US lawmakers.
The USA is in full blown panic mode. They are under attack on 2 fronts.
Not only is their financial system being threatened by a new system where they lose control but now they also risk losing more power to the big tech companies.Their natural reaction is to draft pathetic laws pic.twitter.com/neL0VcioA1

— Ran NeuNer (@cryptomanran) July 14, 2019
David Marcus Assured Full Cooperation Even Before the Hearing
Facebook notes that its Libra announcement comes a year before its launch only to have "sufficient conversations" with the lawmakers. Before the testimony, Marcus has clarified that
"The Libra Association, which will manage the [Libra] reserve, has no intention of competing with any sovereign currencies or entering the monetary policy arena.

"Monetary policy is properly the province of central banks," he said. "Facebook will not offer the Libra digital currency until we have fully addressed regulatory concerns and received appropriate approvals."
Ran Neuner says that Marcus will be representing the whole crypto industry during the Senate hearing:
Like it or not,this week @facebook is sending @davidmarcus to represent the entire crypto industry in front of congress. Rest assured there will be huge impact on the entire industry, worldwide based on his testimony. @facebook has woken up regulators worldwide. Trade carefully.

— Ran NeuNer (@cryptomanran) July 14, 2019
Similar thoughts were echoed by Morgan Creek Digital co-founder and partner Anthony Pompliano.
David Marcus will be the only person in the world to defend digital currencies on Tuesday in front of the most powerful group of lawmakers in history to hold a hearing on this new technology.

One man trying to explain why and how the world is changing.

What a time to be alive.

— Pomp 🌪 (@APompliano) July 14, 2019
---