ZCash has given more than 38% returns to its investors just in the last month. Technical charts suggest further price surge above $100 levels.
Summary
Overview of ZCash Performance
Top Recent News
ZCash Monthly Market Report Using Omenics Sentscore
1. Overview of ZCash Performance
Investors of the Privacy-focused cryptocurrency ZCash (ZEC) are having a great time currently with strong technical charts building up in favour of the cryptocurrency. Over the last one month between May 17 and June 17, ZEC price has surged by more than 38% moving from $70 to climb above $97 as on date.
The above price chart shows a consistent growth for the cryptocurrency amidst some volatility. At the press time, ZCash (ZEC) is trading a price of $97.63 with a market cap of $661 million. If we are to see ZEC's year-to-date performance, the cryptocurrency has surged by more than 60% since the beginning of 2019.
Currently, a number of crypto analysts are suggesting an immediate target for ZCash to be above $100 with long-term potential to go even higher.
$ZEC/BTC approaching major downtrend resistance. #Zcash pic.twitter.com/TANokR9rvp

— CoinDesk Markets (@CoinDeskMarkets) June 13, 2019
Buy $ZEC under $100 sell over $1,000

— Moon Overlord (@MoonOverlord) May 22, 2019
If you missed LTC halving rally:

ZEC one is in a year.

Trust me you def want to see the hype behind a cut of the biggest inflation high cap coin.

— ฿TC฿ite (@btcbite) June 12, 2019
2. Top Recent Zcash News
A general observation is that with global regulatory agencies cracking down on crypto usage, the demand for privacy-focused cryptocurrencies like the ZCash is on the rise. Recently, India has proposed an anti-crypto ban that aims to put an absolute ban on crypto usage. The bill further proposes a 10-year jail for anyone dealing in any sort of crypto-related activities.



Binance CEO Changing Zhao said that such measures initiated by India will push the adoption of privacy-focused coins like ZCash and Monero:



That Bill in India will really push privacy coin adoption forward.

— CZ Binance (@cz_binance) June 7, 2019
Cryptocurrencies like ZCash can still help Indian crypto enthusiasts to stay hidden from the oversight of the lawmakers and the government.





The Earn ZCash Campaign

initiated

by Coinable has been a massive success providing Coinbase users the chance to earn ZCash tokens just for watching short educational video lessons about the privacy-focused cryptocurrency.

ZCash's founding company the Zerocoin Electric Coin Company allocated around 15,518 Zcash for this educational purpose. Over 100,000 Coinbase users have been reported to have followed this campaign.



Simon Liu, the ex-employee of Zerocoin has recently

sued

the company claiming $2 million of unpaid shares, damages, and breach of trust. In August 2016, Simon Liu joined Zerocoin as a Senior Software Engineer. During that time, Liu entered a contract with Zerocoin to receive "incentive stock options to purchase" 12,000 stock of the company.

As per the document, Liu claims that Zerocoin was not legally qualified to offer equity in the first place. Thus, he has accused the founders of making false promises regarding employee compensation. The complaint is filed in the Superior Court of California for the County of San Francisco.


I'm excited about this! Ethereum is working on becoming a pegged side-chain of Bitcoin, and also a pegged side-chain of Zcash! 😁 https://t.co/1sDYaj4fgn

— zooko (@zooko) June 8, 2019
3. ZCash Monthly Market Report Using Omenics' Sentscore
The Omenics Sentscore chart shows that the overall market sentiment for ZCash over the last month remains in the neutral region between 4-6, but it has recently touched the positive zone.
The news sentiment indicator oscillates in a wide range from "very positive" region above 7.5 going all the way to the "negative" region below 4. However, it has recovered back to the "positive" zone above 6.
The social sentiment indicator oscillates very closely with respect to the ZCash price movement and remains in the "neutral" region, after recently entering the positive zone.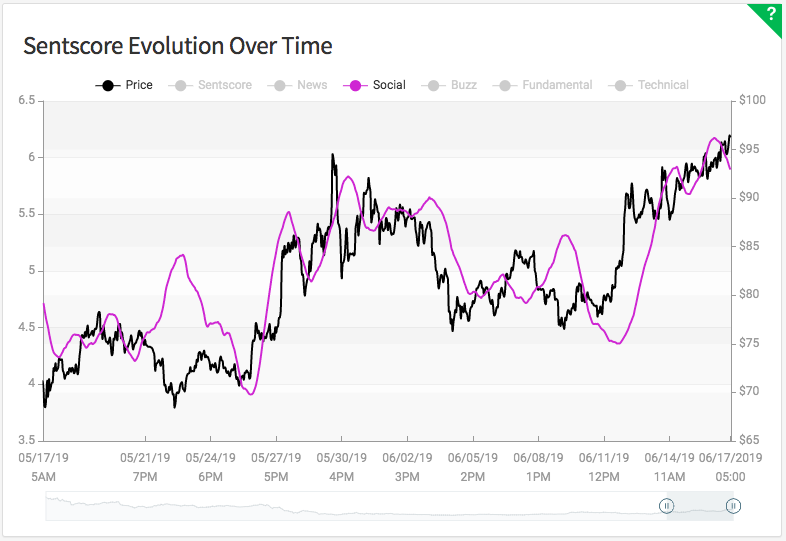 The buzz for ZCash shows largely volatility over the last month and has recently been heading downwards. However, it has just entered the "less content than usual" zone:
As said earlier, there is a strong technical build-up for ZCash over the last month moving from the "very negative" zone up to the "very bullish" zone. The technical analysis indicator is back to the neutral zone but there is sill a high potential to have now this one getting back to the bullish or very bullish zone:
Get more details about our platforms and our scores here. Sign up for free and explore our crypto analytics.
---