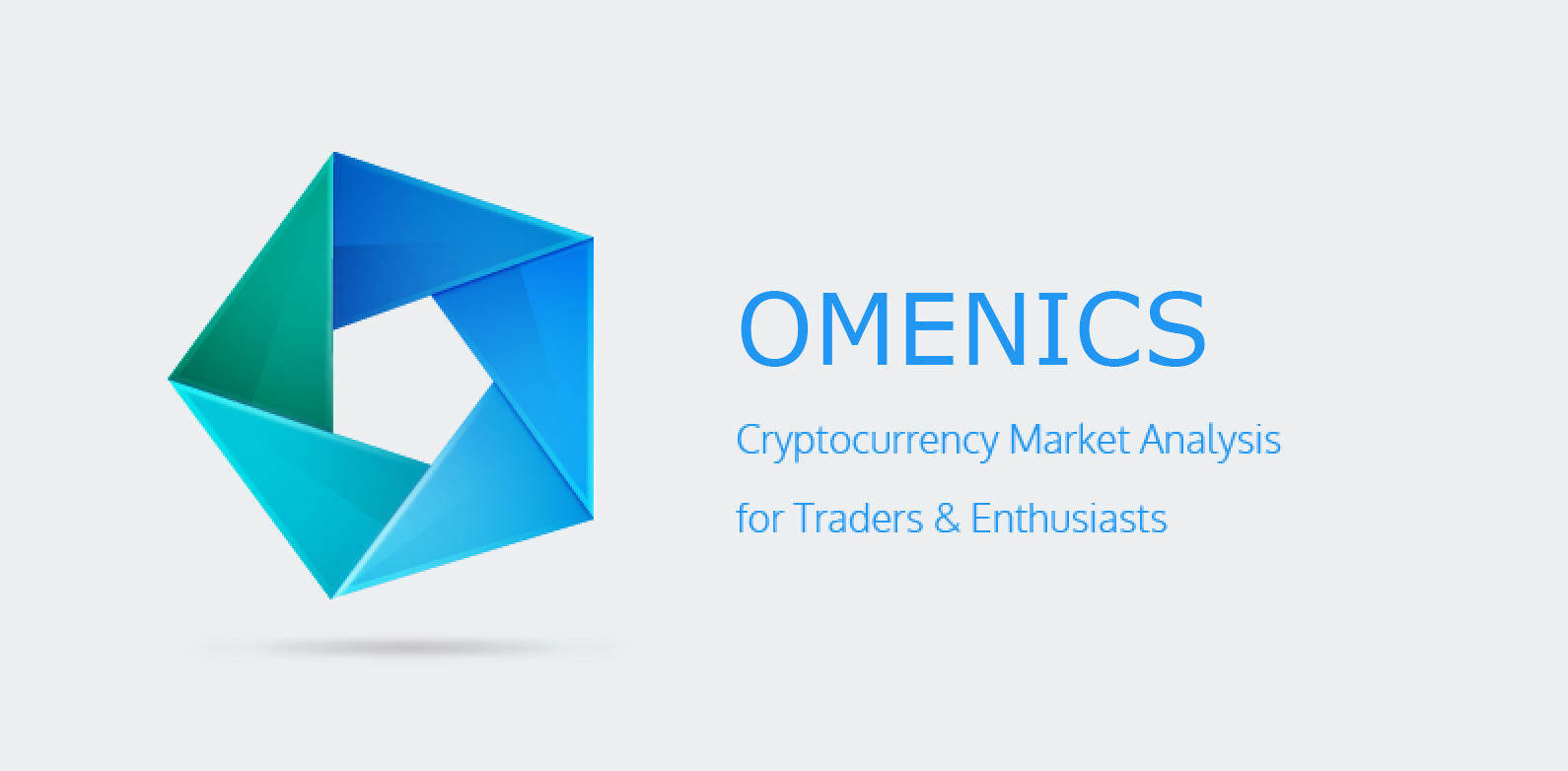 Why Omenics?
Our mission is to help cryptocurrency traders and investors make better decisions.
After investing in the cryptocurrency space ourselves, we quickly identified the friction that goes along with due diligence of digital coins and tokens. So, we built Omenics, a cryptocurrency-specific data analytics platform that saves us time and turns the market noise into reliable insights.
Omenics platform combines a comprehensive hub of crypto data with curated content and sentiment indicators to help with trading decisions.
*Omenics was previously known as Predicoin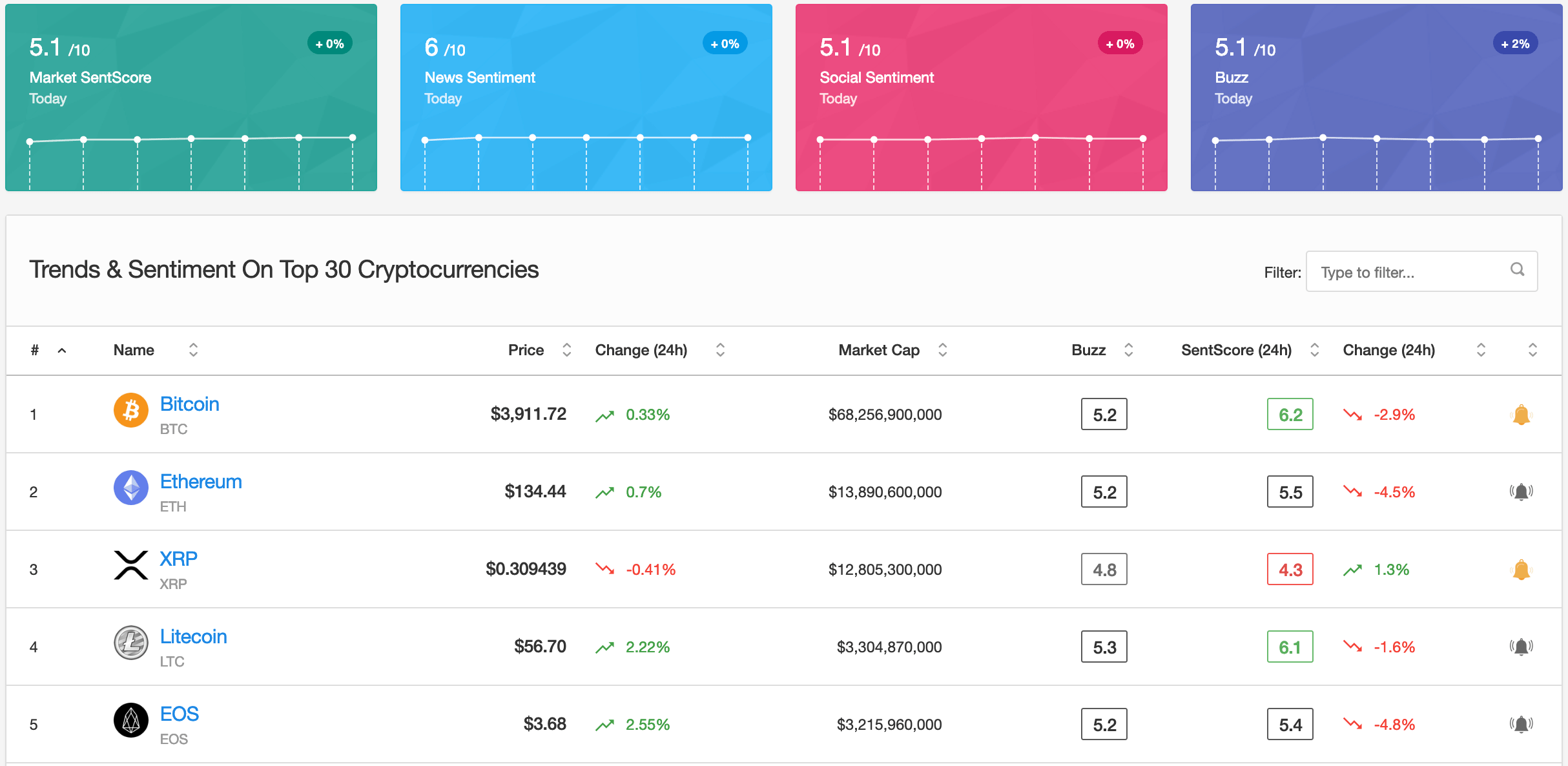 Our platform highlights the most important cryptocurrency content to understand and track market trends, and offers multiple cryptocurrency indicators to quickly access important information.
We are working hard to enable our users to quickly access high-impact news and social media content while comparing the sentiment across their favorite coins and tokens.
Sentscore: our proprietary cryptomarket sentiment indicator
The algorithms powering the Sentscore first calculate, then integrate sentiment from 5 distinct outlets: news, social media, technical analysis, viral trends, and coin fundamentals.
Since each of these 5 data sources has its own sentiment score, you can display individual components by hovering over each corner of the Sentscore pentagon.

Our Sentscore allows users to easily assess cryptocurrency performance across multiple vectors, making it a powerful research tool and setting a new standard for sentiment-based indicators in crypto asset due diligence.
Omenics makes researching cryptocurrencies more efficient by collecting data and deriving 5 sentiment indicators (or verticals), that make up the Sentscore, which reports the general outlook of a coin.
Explore individual verticals to find more detailed information on what's contributing to the Sentscore:
News

: Sentiment from textual analysis of articles from more than 100 crypto news sites

Social media

: Sentiment from textual analysis of posts and comments from crypto influencers on Twitter and Reddit

Buzz:

A compound metric gauging trends from social media volume, search engine statistics, and website rankings

Technical analysis

: A combination of traditional technical indicators on coin's price (moving averages, RSI, oscillators etc.)

Fundamentals:

Analysis of micro- and macroeconomic factors of a coin (market cap, team, developer activity etc.)
How to interpret the Sentscore?
Interpreting the Sentscore's scale:
0 to 2.5: very negative

2.5 to 4.0: somewhat negative zone

4.0 to 6.0: neutral zone

6.0 to 7.5: somewhat positive zone

7.5 to 10: very positive
Please note this is not a strict scale but a gradient across 5 main score ranges: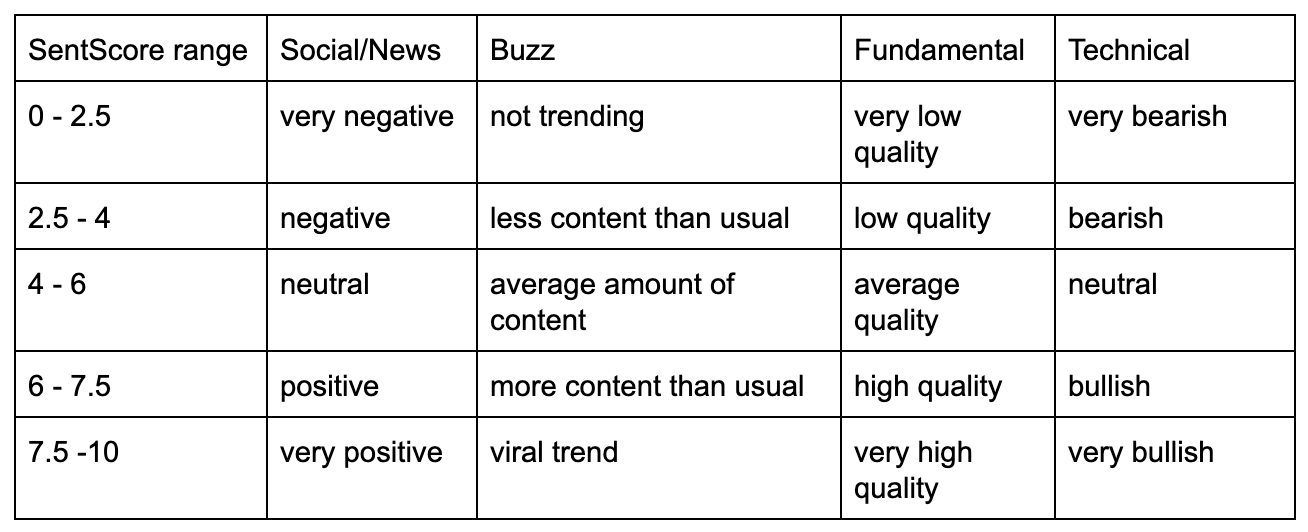 Please note! The Buzz indicator shows the intensity of social interest for a crypto.
A large Buzz score means lots of positive or negative interest in a coin. We like to use the Buzz score to discover which coins have something interesting happening (i.e an unusual crowd interest), and then we look into the coin further using the other Sentscore verticals.
We aim for the Sentscore to give a brief overview of each cryptocurrency's sentiment, and allow you to explore patterns and trends in market sentiment. You can check the daily, weekly and monthly Sentscore, with percent change displayed.
The Sentscore pentagon shows the influence of the 5 scores and provides information about what content is currently positive, negative, or neutral.

Sentscore and Price evolution chart will help you track the Sentscore, each of the 5 individual sentiment scores, and price data over time.
You choose which data categories to include so that you can compare graphs and analyse trends under customizable time frames.
Our cryptocurrency data analytics platform aims to become an essential tool for crypto investors that augments your current asset research and due diligence.

Trending news:
Find recent and trending news related to a specific coin. We use Facebook Graph API to retrieve the number of likes and shares of a specific URL.

Trending topics

We display most recurrent keywords in collected news. The cloud words help you quickly discover the most discussed topics in crypto news.
Tweets
Omenics' friendly interface saves you time by only displaying the most recent and trending tweets from crypto influencers.
You can check the top daily, weekly and monthly tweets that tag your favorite cryptocurrencies. Omenics is the essential companion tool for tracking cryptotwitter.
Reddit
As with tweets, you can track the latest and most active subreddit posts that mention your favorite cryptos.
You can filter by date: daily, weekly or monthly subreddit posts.
News chart
This chart helps you track the news volume for a coin during a specific period of time. You can track how often a coin is mentioned in the news, and see the evolution of the sentiment.

Social chart

The social chart displays the volume of social conversations (based on tracking Twitter and Reddit) with the identified sentiment distributions during a customizable period of time.
This is an useful tool to track the volume of social posts in addition to sentiment.

News
From the header, if you click on News you will access to all news from the cryptomarket. From a coin page, click on news to access the most recent news mentioning the selected coin.
Social
From a coin page, you will be redirected to a page where you will find all the tweets and Reddit posts mentioning the coin. You can use the menu to filter by period of time, type of engagement, type of influencer (trader or not) or platform.

Disclaimer:
Omenics is a cryptocurrency data analytics platform which is not providing any financial advice. We use artificial intelligence to formulate our scoring and sentiment indicators, these scores and indicators are for educational purposes only.
We are constantly adding new sources of data or influencers. You are welcome to suggest new sources or contents we may have missed.
As our platform and Sentscore are in beta, please be lenient with our results as we are working hard to provide the best experience and accuracy on our platform.
We would love to get your feedback about Omenics and understand how we could help you augment your cryptocurrency trading or investing experience.
We have a great roadmap of new features coming soon, stay tuned!
---